Copper Hammered Tandoor Manufacturer
Bajrangi Tandoor is an Exporter, Service Provider, Manufacturer, and Supplier of Copper Hammered Tandoor Manufacturer at the most current and competitive pricing. 1998 marked the beginning of our export business in New Delhi, India. Bajrangi Tandoor is a well-known exporter, service provider, manufacturer, and supplier of as well as a diverse selection of  S.S. Tandoor Taper Shape, Stainless Steel Tandoor, Designer Brass Round Tandoor, SS and MS Skewers, Iron Tasla, and Stainless Steel With Wooden Top at competitive prices. Find the lowest prices on products, as well as the location and contact information for the firm. Visit our associated categories and sub-categories to discover more about comparable products and suppliers like gas and charcoal tandoor.
Our Copper Tandoor is a delightful and elegant way to prepare a variety of dishes for a variety of occasions. These gorgeous tandoors would look amazing in your kitchen. Copper Hammered Tandoor Manufacturer are perfect for studio kitchens or open kitchens in homes or restaurants, and we offer a wide assortment of them. We can supply gas and charcoal tandoors with round or square barrels and different surface treatments. We now sell that are connected to LPG as well as charcoal and gas ones. 
Bajrangi Tandoor
One of the most popular tandoors today is the commercial Copper Hammered Tandoor Manufacturer Finish, which not only makes and delivers delicious tandoor food such as Naans, Roti, Parantha, copper tandoor price, and mixed bread, but also looks attractive and improves the atmosphere of the workshop, especially when it's a show kitchen concept. The Tandoor has a typical barrel form with a stainless steel lid. This is a must-have for Show Kitchens'.
The Commercial Tandoors, which comprise the Gas Tandoor, the Stainless Steel Square Tandoor, the Drum Tandoor, the Stainless Steel Round Tandoor, Copper Hammered Tandoor Manufacturer,  the Stainless Steel Tandoor, and the Clay Tandoor, as well as the copper tandoor pricing, are made from the best quality raw materials. Gas and charcoal tandoors are often used in restaurants and hotels to prepare tandoori meals such as naan, pizza, cakes, cookies, tandoori chicken, fish, and tandoori rotis. 

Copper Tandoors are made from high-quality copper sourced from reputable and well-known market providers, which lends the product a great deal of durability and resilience. Copper Hammered Tandoor Manufacturer The performance of these tandoors is excellent, and their construction is exquisite. Pricing for copper tandoors The product is in high demand on the market, so we sell it for a very low price to make it easy for people to buy it. 
Features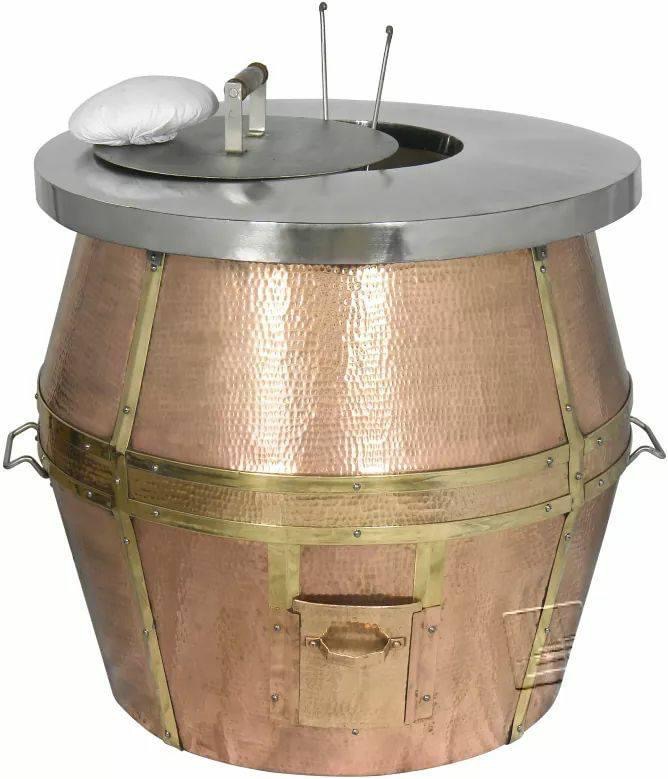 | | | | | | |
| --- | --- | --- | --- | --- | --- |
| Length | Width | Mouth/Inner Dia | Height with Wheel | Height without wheel | Weight (Approx) |
| " | 28″ | 12″ | 36″ | 31″ | 210Kg |
| " | 30″ | 13″ | 37″ | 32″ | 250Kg |
| " | 32″ | 14″ | 37″ | 32″ | 285Kg |
| " | 34″ | 15″ | 37″ | 32″ | 295Kg |
| " | 36″ | 16″ | 38″ | 33″ | 340Kg |
Copper Hammered tandoor
We are the best Tandoor Manufacturer
 
Bajrangi Tandoor International was established as a single proprietorship and is regarded as the leading manufacturer of quality products and services, including Copper Hammered Tandoor Manufacturer, Gas Operated SS Round Tandoor, and Gas Operated SS Square Tandoor. The items and services in question are known for characteristics such as superior quality, reasonable cost, required functionality, and low maintenance requirements. The commercial tandoor is positioned at The firm has been able to supply Copper Tandoor, Gas Operated SS Round Tandoor, and Oven for Home in a number of pricing ranges and models as a result of their professional staff, stringent quality control systems, and attention to customer service. They have a history of offering customers and buyers products and services at rates that are competitive with the market. Their products and services have a strong position in the worldwide market. 
Best Copper Hammered Tandoor Exports
In 1998, the business was established. Bajrangi Tandoor International is one of the leading Copper Hammered Tandoor Manufacturer, exporters, and distributors in India. Bajrangi Tandoor is pleased to see a little tandoor oven for the home adopting the features of its previous production, which was involved in the manufacturing of tandoors. The company grew tremendously. Our loyal consumers provide our products with a favorable reception in the marketplace.
We have a wide variety of products, including Roomali Roti Trolley, Gas Operated Tandoor, Buy Copper Tandoor At Best Price, Clay Tandoor, and Coal Operated Barbecue. We get orders from them often. Our products are of the highest quality. We are certain that our educated personnel will deliver the highest and finest quality raw materials, Copper Hammered Tandoor Manufacturer so we can ensure that the items we sell are made using quality-controlled and guaranteed components. In addition, we have built a huge, fully-equipped gas and charcoal tandoor.