Commercial Pizza Oven – Tandoor Oven for Restaurant & Home
The finest way to cook your favorite dishes like pizza, burgers, and more is with a Commercial Pizza Oven. Despite the great heat they endure, may be used reliably for extended periods of time. Getting the same kind of pristine heat that you get from a is challenging.
To get that authentic pizza oven flavor in the comfort of your own home, look no further. You can expect a masterpiece from your pizza when using them because of their handcrafted quality. 
This Commercial Pizza Oven takes the well-liked concept and applies it to a robust construction. High-quality thermally insulated panels and stainless steel (grade 304) construction give this oven the ability to endure very high temperatures. The heat-resistant glass used in the  Pizza Oven keeps the heat from escaping. This saves money and time on cooking.
Features:

1. Longer operational life
2. Efficient performance
3. Less power consumption
Bajrangi Tandoor 
Cabinets from Bajrangi Tandoor provide a level of design and craftsmanship that you just won't find in mass-produced alternatives. Our cabinets are hand-made using the best materials on the market today. Commercial Pizza Oven The reality is that mass manufacturing cannot compete in style, quality, or price because of its poor craftsmanship and substandard materials. Most items on the market today are commodities, but ours are not. Our goods are more durable than the competition's because we never sacrifice quality. We guarantee your complete satisfaction or your money back, and we have for the last 20 years.
When it comes to customer service, we like to do things the old-fashioned way. Any product with the name "Bajrangi Tandoor" on it is guaranteed to be the strongest one on the market.
This Commercial Pizza Oven takes the well-liked concept and applies it to a robust construction. High-quality thermally insulated panels and stainless steel (grade 304) construction give this oven the ability to endure very high temperatures. A set of heat-proof glasses More energy is saved, the process is simplified, and the cost of producing pizza is reduced thanks to the Mobile Pizza Oven's tight seal. These outdoor pizza ovens come fully assembled, weigh very little, and can be set up in one hour or less.
Best Design 
These Bajrangi Tandoor pizza ovens are great for any outdoor kitchen since they can be used on worktops, in mobile pizza oven trailers, or as portable pizza oven carts. are easily transportable, Commercial Pizza Oven that need no curing and may be taken along on a family vacation. Compared to conventional refractory or brick ovens, they are both more affordable and versatile. 
weld domes, which are less likely to twist or bend because of heat than structures that are bolted together;
The flue, landing, cart, and pizza oven portions of your oven are all constructed from 304 stainless steel, so they can resist even the most humid situations without rusting or corroding. 
The highest possible quality and quantity of insulation to ensure maximum heat retention. All of the stainless steel mobile pizza ovens we sell are insulated Commercial Pizza Oven with a two-inch thick ceramic board on the bottom and a two-inch thick ceramic blanket on the dome. The ceramic flooring in these is of the highest quality and was designed specifically for use in these ovens.
Four sizes: 28″x24″, 32″x24″, 36″x26″, and 40″x28″ cooking floors; all with stainless steel landings;
You can bake 2 to 5 pizzas at a time, or 30 to 100 pizzas per hour;
Outdoor use only, but the 32″, 36″ and 40″ can be installed under a patio cover with a UL103HT (double wall) chimney;
Portable wood fired pizza ovens, no gas or charcoal;
Easy delivery using a lift gate — no forklift required.
Design Solid
More durable than low-cost imports with glossy finishes that fade in the sun, this device's powder-coated casing has a hammer-toned design for added style and protection. These floors heat up quicker than Commercial Pizza Oven, have a rapid recovery period, and enable you to bake pizzas faster than rival steel ovens, whereas firebrick baking stones need a brick oven dome with higher thermal mass. When you use firebrick baking stones, you also need a brick oven dome, which adds to the cost of the oven as a whole.
Our Commercial Pizza Oven is a one-of-a-kind design that screams elegance and intricacy, not to mention delicious food. Our product integrates cutting-edge international safety standards with the innovation and skill of Indian craftspeople. These ovens are perfect for large-scale restaurants and pizzerias, but they're also great for home use in backyards, during barbecues, and in other similar situations. You can trust that your pizza made with this ingredient will have the pure, authentic taste of an authentic Italian pie. We have become prominent global exporters because of the popularity of our. This means you may reach us immediately from the place you now call home.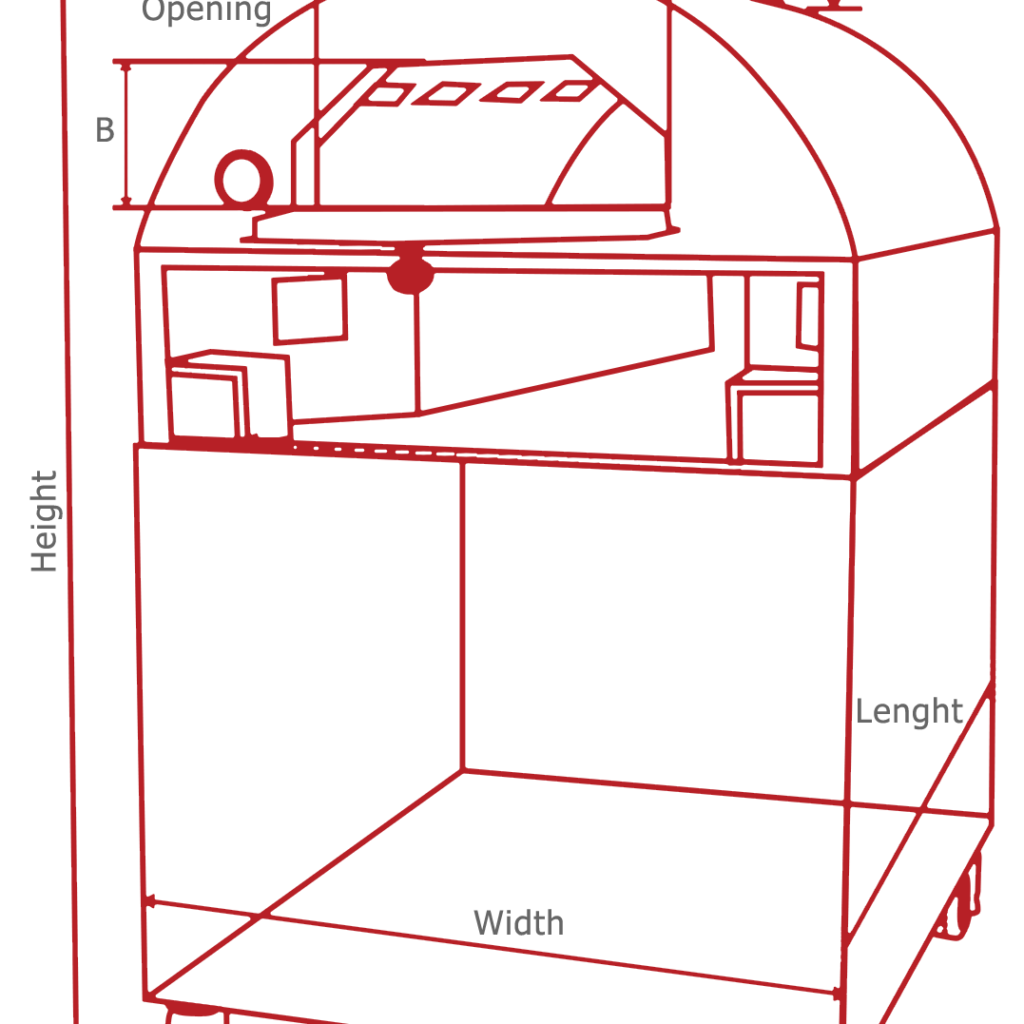 Bajrangi Tandoor Includes:
Stainless steel pizza ovens dome core with a durable red or black powder coated wrap;
Stainless steel cart or countertop models;
Stainless steel stove pipe with flue;
Stainless steel door;
Thermometer;
High grade ceramic cooking floor;
Starter tool kit with stainless steel pizza peel, and wooden pizza peel.
Optional for Bella :
| Oven | Cooking Surface | Area (sq. in.) | Heat Up (min) | Pizzas (10″) | Shop Now |
| --- | --- | --- | --- | --- | --- |
| Medio28 Portable Wood Fired Pizza Oven | 28″ x 24″ | 672 | 15 | 3 |   |
| Grande32 Portable Wood Fired Pizza Oven | 32″ x 24″ | 768 | 15 | 4 |   |
| Grande36 Portable Wood Fired Pizza Oven | 36″ x 26″ | 936 | 15 | 4 to 5 |   |
| Ultra40 Portable Wood Fired Pizza Oven | 40″ x 28″ | 1120 | 15 | 4 to 6 |   |
Commercial Portable Pizza Oven
| CORE MATERIAL | Fire Bricks |
| --- | --- |
| OUTER CASING | Grade 304 stainless steel grade |
| INSULATION | High temperature resistant glasswool |
| USAGE | Restaurants / Outdoor catering |
| DIMENSIONS | Comes in few standard sizes. Refer to the size chart. |
| PORTABILITY | Portable |
| FUEL OPTIONS | Gas |
| USAGE ENVIRONMENT | Indoors / Outdoor |
| CUSTOMISATION | Can be custom made in different sizes and design |
Commercial Pizza Oven